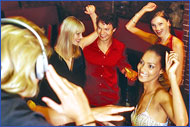 Sports and entertainment.
Various are the pastimes also during your evenings, starting from the discotheque with animation, to the games and the performances. Numerous also the practicable sports: tennis, volley-bal, five-a-side, bowls and water-sports, with the opportunity to attend the diver-school and swim-lessons.

The animation with experience proposes games and entertainment, offering the possibility to meet new friends.