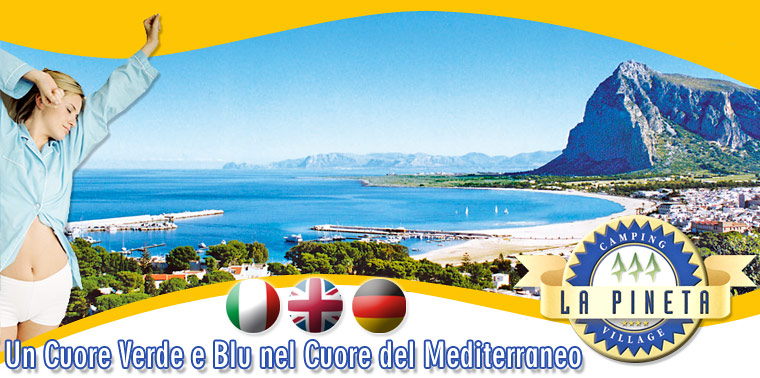 Splendida costa nel cuore del Mediterraneo, San Vito lo Capo è una località balneare assai ambita durante i mesi estivi: spiagge di sabbia finissima, acque limpide e cristalline, fondali suggestivi di un mare incontaminato sono da anni ormai la meta scelta dai turisti e da chi si appresta a trascorrere un lungo e spensierato periodo di vacanza. In un paradiso dove la natura e i suoi splendidi colori regnano incontrastati sorge il Camping Villaggio La Pineta, prestigiosa struttura turistica predisposta a garantirti un soggiorno piacevolissimo e indimenticabile.
A wonderful coast in the heart of the Mediterranean, San Vito lo Capo is a very desired sea site during the summer-months: beaches of very fine sand, clear and crystalline water, striking bottom of an uncontaminated sea, since many years the destination chosen by the tourists and which is the ideal place to enjoy a long and a carefree holyday. In a paradise where the nature and its splendid colours reign in contrast, rises the Camping Village La Pineta, precious tourist resort predispose guarantee a pleasant and unforgettable staying.
Prächtige Küste im Herzen des Mittelmeere, San Vito lo Capo ist ein sehr geliebtes Badeort während die Sommermonaten: Strände mit feinstem Sand, Kristallklares Wasser, bezaubernde Tiefe von ein noch unbeflecktes Meer, sind seit Jahren ausgewählte Ziele von die Touristen und was sich sehr eignet um einen langen und unbesorgten Urlaub zu verbringen. In ein Paradies wo die Natur und die zauberhafte Farben herrschen und wo der Campingplatz Feriendorf La Pineta kontrastiert, eindrucksvoller Touristischer Struktur ausgerüstet um ein angenehmen und unvergesslichen Urlaub zu machen.