---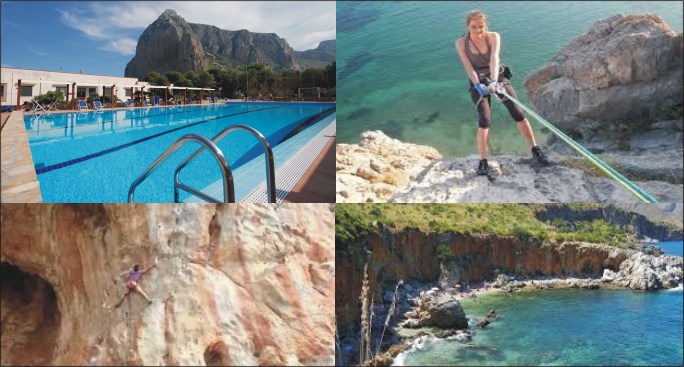 La Pineta Village is the ideal place from which to enjoy Climbing in San Vito Lo Capo. Services and a warm welcome at special prices for climbing enthusiasts.
For years the rock faces of San Vito Lo Capo have been at the centre of attention, igniting the enthusiasm of many climbing enthusiasts from all over the world.
And La Pineta Camping Village in San Vito Lo Capo is the ideal place for your stay, due to the variety of accomodation options it can offer you (Hotel, B&B, Bungalows) and also because it rises on the slopes of one of the most beautiful rock faces of San Vito Lo Capo, the Cathedral in the Desert, reachable with a brief walk.
You can climb well all year round, so long as in summer you choose the rock faces facing north and so more ventilated, while in winter the warmer and sunnier rock faces to the south and west. All the most appreciated cliffsides of San Vito Lo Capo rise at a brief distance from our Village: Grotta dei Santi (Dei Santi cave), Mount Monaco, Salinella Reef, the cliff of Cala Mancina (Mancina bay).
Rocky reliefs ideal for climbing are often isolated mountains or groups of mountains which are more complex but also unique and spectacular. But what captures majorly the attention of the climbers is the incredible quantity of perfect rocks for climbing with fascinating faces with lots of variety of rock and colour.
Our village has agreements with the main climbing companies and associations.
Thanks to the collaboration between Italian and foreign climbers, over 200 routes have been bolted, some of rare beauty, but in the whole area of San Vito Lo Capo there is still ample space for the opening of new routes and the possibility to equip entire sections of single pitch climbs, it is enough just to raise your eyes and choose any part of this climbing paradise.
Enjoy your extraordinary experience of climbing with us in San Vito Lo Capo!